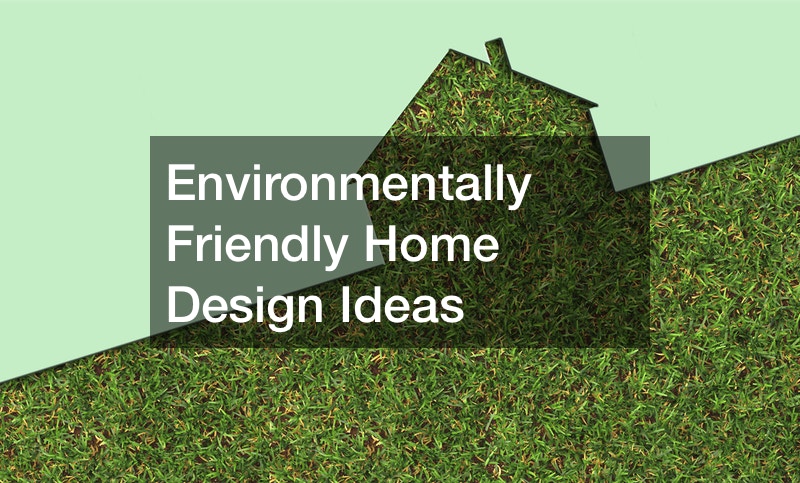 People looking to personalize their homes and create their own unique spaces often save up to build their own houses. This is particularly helpful for home builders looking to create an eco-friendly place that they can call their own, as many prebuilt houses aren't optimized as eco-homes. When it comes to building a new eco-home, it's important to keep in mind sustainability and eco-friendliness to ensure that you're not creating a larger carbon footprint than necessary. Thankfully, eco-friendly home design ideas are abundant, especially since so many people have begun to embrace green living within the past couple of decades.
At a glance, the process of creating an eco-friendly home from the ground up can seem daunting; however, it doesn't have to be! With some helpful tips in mind, you can create the eco-friendly home of your dreams without unnecessary stress.
What is an Eco Home?
Before getting started on your own environmentally friendly home design ideas, you should understand what exactly an eco-home is. The term "eco-friendly" itself was coined in 1989 and is used to describe anything that reduces harm or isn't harmful to the environment. So when we talk about eco-homes, we're talking about homes that reduce their impact on the environment by making use of resource-saving, sustainable materials.
Eco-homes make use of materials that are specifically selected due to their lesser impact on the environment. For instance, brick and wood — specifically recycled options — are often found as eco-friendly materials, although recycled steel, precast concrete, and bamboo are also commonly used. Using recycled materials in your eco-home allows you to keep unnecessary waste out of landfills and reduce the environmental impact of using new materials during construction.
Like using eco-friendly materials on the home's exterior, many eco-homes use extra insulation made from natural or recycled materials. This extra insulation works to cut down on the home's energy consumption by maintaining a stable temperature and cutting down on the amount of work your HVAC system has to do.
Essentially, the goal of all environmentally friendly home design ideas is to combine green construction materials with all the functionalities of a standard home. While a home builder who works primarily on eco-homes can help advise you on all the ins and outs of the layout and materials, it's important for you to also have the basics in mind going forward. This will ensure that you know what to expect going forward and can better understand what to look out for throughout the construction process.
Now that you have an understanding of what an eco-home is in its most basic form, let's take a look at some more in-depth details that you should consider before getting started on your construction.
Using Sustainable Materials
As touched on above, one of the most important things to keep in mind is using sustainable materials throughout your build. This doesn't just mean making sure that the bare bones and shingles are sustainable, but also everything that you put into your home. All environmentally friendly home design ideas should include the construction materials and the interior fixtures, appliances, and furnishings. After all, it won't matter too much if your home is constructed to be green if, after the fact, you fill it with appliances and fixtures that aren't sustainable!
When picking furnishings and fixtures for your eco-home, make sure you look out for appliances that are Energy Star rated. You should also take care to look for things that are made from recycled or low-impact materials. For instance, carpets are often made from non-renewable resources, so an area rug made of recycled or sustainable material is preferred. Using materials like this all throughout your home can help ensure that your environmental impact is as low as possible.
A Green HVAC System
Increased insulation, one of the hallmarks of an eco-home, is only one piece of the puzzle. Without an energy-efficient HVAC design, you could risk using more energy than you need to. An HVAC system designed especially for energy efficiency is one of the best environmentally friendly home design ideas as heating and cooling can be a huge energy consumer otherwise.
Although investing in an energy-efficient HVAC system may seem like an expensive investment at first, coupled with superior insulation, you will actually be saving money in the long term. During construction, you should work with an HVAC company to create a system that will benefit your home and the environment. You may also consider investing in additional fixtures such as a smart thermostat that can help cut down on energy consumption during the night and when you're not home. Smart integrations like this can help dramatically cut down on your energy consumption when coupled with an already energy-saving HVAC unit. That benefits not just the environment, but also your wallet!
Taking care to install these features during the initial construction can help reduce the need for future renovation, as you'll already have the green fixtures that you need. Furthermore, with all the money saved from your reduced energy bills, you'll be able to save up if you need to upgrade anything in the future.
Don't Forget to Save the Water!
A lot of what goes into eco-housing emphasizes energy-saving and sustainable materials; however, water-saving features are just as important, and they are often overlooked. Other environmentally friendly home design ideas include making sure that you're not needlessly wasting water. Appliances such as washing machines and dishwashers should be optimized to use as little water (and energy) as possible. Similarly, water-saving showerheads and faucets should be considered for the bathroom and the kitchen.
You should also make sure that your toilet is designed to help save water, as it is one of the most wasteful water features in any home. A residential plumbing service can help point you towards the best water-saving options while ensuring that everything is installed and optimized correctly. Additionally, after construction, you should take care to monitor your toilet to ensure that it isn't leaking or running. A running toilet can waste nearly 26 gallons of water a day, which can really put a damper on things if your goal is to be as green as possible.
Location, Location, Location
Whether you are building or buying a home, location is key. This is especially true when it comes to building a sustainable eco-home. Where you decide to build your eco-friendly home will impact how sustainable your house and overall lifestyle can be. When considering environmentally friendly home design ideas, you'll want to be sure to avoid building over delicate ecosystems where your construction could pose a risk to the natural cycles. Preferably, you should consider lots that have been built upon previously or cleared. This will ensure that you're not clearing additional land that could otherwise have been preserved.
Similarly, you should consider if your location is pedestrian and bike-friendly or if you will need a car as transport. Building in an area that helps cut down on the amount of driving you'll need to do can further decrease your overall environmental impact. Areas near public transportation should be considered if you're looking for a way to easily lower your carbon footprint.
Another factor to keep in mind is how you're going to be situating your home. For example, you'll want to make sure to utilize as much natural light as possible to cut how much electricity you'll be using. To do this, you'll want to make sure that your living areas are capable of getting enough sunlight during the day. A sunny lot is also beneficial for installing solar panels, but we'll talk more about that later.
Lastly, the landscape is something that you'll want to keep in mind, especially if you're planning on starting a garden or installing outdoor solar panels. Consider environmentally friendly home design ideas that situate your home in the most functional way possible. For instance, if you want your garden area to be easily accessible from your kitchen, you'll want to communicate this design with your general contractor to ensure that the layout will work with your lot.
Going Solar
Another of the best environmentally friendly home design ideas includes residential solar energy. Solar is one of the fastest-growing green changes that homeowners are making. While you can always add solar after your build is complete, it's important to consider it in your home's layout during construction. This is because, as mentioned above, you'll want to make sure that the landscaping layout allows enough sun to reach the panels where you want them placed. For instance, if you want roof panels, you'll want to make sure that there isn't an overhanging tree or adjacent building that will block a majority of light from reaching them. You'll also want to have a roofer okay the project to ensure that the panels will work without damaging your roof. Similarly, if you're planning on having your panels placed on the ground, you'll want to make sure that you plan your yard's layout to include enough space for them and any other features you want.
Having solar panels installed can help further reduce your dependence on the energy grid and allow you to make use of more renewable energy than you would otherwise. Excess solar power can even be stored for later use or sold back to the grid for credit that can be used to lower the cost of energy during cloudy days or nights when your surplus runs low.
During construction, work with a solar company to plot out the best placement for your solar panels. You should also consider how many panels you'll be able to have, as in many cases, it will take between 28 and 34 panels to completely cover 100% of a home's energy needs. However, if you're living in an urban area where space is limited, you may opt for a lower number while splitting your dependence. If you're planning on building a rural eco-home you might consider trying for full energy independence if possible.
Working with Green Professionals
All great environmentally friendly home design ideas need green professionals to help them come together. Currently, there are around 3,000 certified green professionals (CGPs) in the United States operating in various aspects, from contractors to real estate agents. Professionals like this can help make your dream eco-home a reality. They can also advise you throughout the process to ensure that you get exactly what you need and want out of your build. While it's important to research on your own to ensure that you understand everything that goes into a good eco-home, it's also important to have a professional team on your side that can take your visions and ideas and make them a reality.
Get Started on Your Design Today
Hopefully, you now have a couple of environmentally friendly home design ideas that you can consider and discuss with your chosen CGP contractors. Remember to always carefully consider all the materials, appliances, and fixtures you put into your new home, and don't shy away from investing in energy-saving additions. While the initial investment may cost more, many of these green inclusions will pay for themselves within the first decade. Solar panels, for instance, can garner you a saving of up to $20,000 within the first 20 years. Because of long-term benefits like this, it's recommended that you carefully plan out all aspects of your home to ensure that both you and the environment benefit in the years and decades to come.